The mObridge DA3 Digital Signal Processor is a revolutionary method of integrating high-end aftermarket audio components with the factory radio.
The DA3 replaces the factory amplifier and eliminates the need for high to low voltage converters and or summing devices. Simply disconnecting the optical cables from
the factory amplifier, and inserting them directly into the DA3, will provide 8-channels of full range, ultra clean fully configurable audio.
The mObridge DA3 interprets many of the factory radio commands eliminating the need for an external volume control knob.
Its DSP processor will decipher and control volume, treble, mid-bass, bass, subwoofer, and balance functions of the factory radio.
With the addittion of the power UI interface the full power of the DA series is now available to users.  With full parametric adjustment of the individual channels as well as the master eq, 20ms time alignment,  cross over linking and much more, the user now has the ability to achieve award winning reasults with the DA3 interface.

DA3 DSP Professional Product Specification
Powerful Graphical Interface

The DA3 unleashes the full power of the DA series of MOST processors.  Now with a powerful UI the user can get to the full 1024 points of the channel and master equalizers for full tuning.  The DA3 combines 20ms time alignment capability, phase inversion, gain control and full mapping on each channel.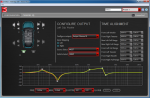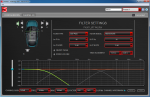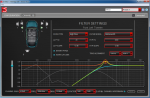 Blackfin DSP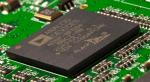 The heart of the device is a 400MHz+ Blackfin Digital Signal Processor (DSP).  The use of such a powerful DSP allows for 8 channels of audio to be extracted and processed.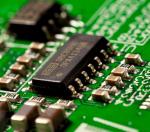 The pre-amp stage is driven by a Burr Brown DAC converter, providing an audiophile quality without compromise.
Seamless Integration
The DA3 interfaces seamlessly with the controls of the vehicle.  Volume, Fade, Balance, Equalizer (if present) are all controllable via the existing vehicle controls.  This means that unlike other integration options, there is no need for mounting of any additional controls inside the vehicle.  The vehicle will look stock with exceptional audio quality.
Vehicle-side input
MOST plastic optical fiber (25MHz) (harness included)
Power/Ground connection (harness included)
Analog outputs
8 channels RCA full-range.
4V RMS
192kHz Sampling 24-bit digital to analog converter (DAC)
Vehicle interface
Support for volume/fade/balance on factory radio and/or steering wheel.
Support for all factory-fitted audio sources (eg telephone/navigation/voice recognition/television/dvd) (where applicable).
Support for reverse park sensor audio overlay (where applicable).
Support for factory multi-band equalizer (where applicable).
Amplifier control
12-volt amplifier turn on/off signal.
KIT INCLUDES
 
ECU
Optical Cable Connection
Power Loom
User Manual
MOST Installation Guide
8x RCA connection
Kommentarer
VECHICLE COMPABILITY

| Make | Model | Generation | MY Start | MY End | Configuration | Order Part Number | | Application Notes |
| --- | --- | --- | --- | --- | --- | --- | --- | --- |
| Aston Martin | DB9 | DB9 | 2004 | | Aston Standard Radio | M1000-M-DA3-ASTON | | Notes |
| Aston Martin | DB9 | DB9 | 2004 | | Aston Standard Radio | M1000-M-DA3 | | Notes |
| Aston Martin | DBS V12 | DBS V12 | 2007 | 2012 | DBS V12 | M1000-M-DA3 | | Notes |
| Aston Martin | DBS V12 | DBS V12 | 2007 | 2012 | DBS V12 | M1000-M-DA3-ASTON | | Notes |
| Aston Martin | One-77 | One-77 | 2009 | 2012 | One-77 Radio | M1000-M-DA3-ASTON | | Notes |
| Aston Martin | One-77 | One-77 | 2009 | 2012 | One-77 Radio | M1000-M-DA3 | | Notes |
| Aston Martin | Rapide | Rapide | 2010 | | Rapide Radio | M1000-M-DA3 | | Notes |
| Aston Martin | Rapide | Rapide | 2010 | | Rapide Radio | M1000-M-DA3-ASTON | | Notes |
| Aston Martin | Vanquish | Vanquish | 2012 | | Vanquish Radio | M1000-M-DA3-ASTON | | Notes |
| Aston Martin | Vanquish | Vanquish | 2012 | | Vanquish Radio | M1000-M-DA3 | | Notes |
| Aston Martin | Vantage | Vantage | 2005 | | Vantage Radio | M1000-M-DA3 | | Notes |
| Aston Martin | Vantage | Vantage | 2005 | | Vantage Radio | M1000-M-DA3-ASTON | | Notes |
| Audi | A4/S4 | B8 | 2008 | | MMI 2G | M1000-M-DA3 | | Notes |
| Audi | A4/S4 | B8 | 2008 | | MMI 3G/3G+ | M1000-M-DA3 | | Notes |
| Audi | A5/S5 | 8T | 2007 | | MMI 2G | M1000-M-DA3 | | Notes |
| Audi | A5/S5 | 8T | 2007 | | MMI 3G/3G+ | M1000-M-DA3 | | Notes |
| Audi | A6/S6 | C6 | 2004 | 2011 | MMI 2G | M1000-M-DA3 | | Notes |
| Audi | A6/S6 | C6 | 2004 | 2011 | MMI 3G/3G+ | M1000-M-DA3 | | Notes |
| Audi | A6/S6 | C7 | 2011 | | MMI 3G/3G+ | M1000-M-DA3 | | Notes |
| Audi | A7/S7 | 4G | 2009 | | MMI 3G/3G+ | M1000-M-DA3 | | Notes |
| Audi | A8/S8 | D3 | 2002 | 2009 | MMI 2G | M1000-M-DA3 | | Notes |
| Audi | A8/S8 | D3 | 2002 | 2009 | MMI 3G/3G+ | M1000-M-DA3 | | Notes |
| Audi | Q5 | 8R | 2008 | | MMI 2G | M1000-M-DA3 | | Notes |
| Audi | Q5 | 8R | 2008 | | MMI 3G/3G+ | M1000-M-DA3 | | Notes |
| Audi | Q7 | 4L | 2005 | | MMI 2G | M1000-M-DA3 | | Notes |
| Audi | Q7 | 4L | 2005 | | MMI 3G/3G+ | M1000-M-DA3 | | Notes |
| BMW | 1 Series | 5 Door Hatch (E87) | 2004 | 2011 | i-Drive 4, Professional (CIC) | M1000-M-DA3 | | Notes |
| BMW | 1 Series | 5 Door Hatch (E87) | 2004 | 2011 | i-Drive Professional CCC | M1000-M-DA3 | | Notes |
| BMW | 1 Series | 5 Door Hatch (E87) | 2004 | 2011 | i-Drive, Business (M-ASK) | M1000-M-DA3 | | Notes |
| BMW | 1 Series | 5 Door Hatch (E87) | 2004 | 2011 | NON i-Drive, Professional | M1000-M-DA3 | | Notes |
| BMW | 1 Series | Convertible (E88) | 2007 | 2014 | i-Drive 4, Professional (CIC) | M1000-M-DA3 | | Notes |
| BMW | 1 Series | 3 Door Hatch (E81) | 2007 | 2011 | i-Drive 4, Professional (CIC) | M1000-M-DA3 | | Notes |
| BMW | 1 Series | Coupe (E82) | 2007 | 2013 | i-Drive 4, Professional (CIC) | M1000-M-DA3 | | Notes |
| BMW | 1 Series | Convertible (E88) | 2007 | 2014 | i-Drive Professional CCC | M1000-M-DA3 | | Notes |
| BMW | 1 Series | Coupe (E82) | 2007 | 2013 | i-Drive Professional CCC | M1000-M-DA3 | | Notes |
| BMW | 1 Series | 3 Door Hatch (E81) | 2007 | 2011 | i-Drive Professional CCC | M1000-M-DA3 | | Notes |
| BMW | 1 Series | Coupe (E82) | 2007 | 2013 | i-Drive, Business (M-ASK) | M1000-M-DA3 | | Notes |
| BMW | 1 Series | 3 Door Hatch (E81) | 2007 | 2011 | i-Drive, Business (M-ASK) | M1000-M-DA3 | | Notes |
| BMW | 1 Series | Convertible (E88) | 2007 | 2014 | i-Drive, Business (M-ASK) | M1000-M-DA3 | | Notes |
| BMW | 1 Series | Convertible (E88) | 2007 | 2014 | NON i-Drive, Professional | M1000-M-DA3 | | Notes |
| BMW | 1 Series | Coupe (E82) | 2007 | 2013 | NON i-Drive, Professional | M1000-M-DA3 | | Notes |
| BMW | 1 Series | 3 Door Hatch (E81) | 2007 | 2011 | NON i-Drive, Professional | M1000-M-DA3 | | Notes |
| BMW | 1 Series | 5 Door Hatch (F20) | 2011 | | i-Drive 4, Professional (CIC) | M1000-M-DA3 | | Notes |
| BMW | 1 Series | 5 Door Hatch (F20) | 2011 | | i-Drive NBT | M1000-M-DA3 | | Notes |
| BMW | 1 Series | 5 Door Hatch (F20) | 2011 | | iDrive 4, F series CIC | M1000-M-DA3 | | Notes |
| BMW | 1 Series | 3 Door Hatch (F21) | 2012 | | i-Drive 4, Professional (CIC) | M1000-M-DA3 | | Notes |
| BMW | 1 Series | 3 Door Hatch (F21) | 2012 | | i-Drive NBT | M1000-M-DA3 | | Notes |
| BMW | 1 Series | 3 Door Hatch (F21) | 2012 | | iDrive 4, F series CIC | M1000-M-DA3 | | Notes |
| BMW | 2 Series | Coupe (F22) | 2014 | | i-Drive 4, Professional (CIC) | M1000-M-DA3 | | Notes |
| BMW | 2 Series | Coupe (F22) | 2014 | | i-Drive NBT | M1000-M-DA3 | | Notes |
| BMW | 2 Series | Coupe (F22) | 2014 | | iDrive 4, F series CIC | M1000-M-DA3 | | Notes |
| BMW | 2 Series | Convertible (F23) | 2015 | | i-Drive 4, Professional (CIC) | M1000-M-DA3 | | Notes |
| BMW | 2 Series | Active Tourer (F45) | 2015 | | i-Drive 4, Professional (CIC) | M1000-M-DA3 | | Notes |
| BMW | 2 Series | Convertible (F23) | 2015 | | i-Drive NBT | M1000-M-DA3 | | Notes |
| BMW | 2 Series | Active Tourer (F45) | 2015 | | i-Drive NBT | M1000-M-DA3 | | Notes |
| BMW | 2 Series | Active Tourer (F45) | 2015 | | iDrive 4, F series CIC | M1000-M-DA3 | | Notes |
| BMW | 2 Series | Convertible (F23) | 2015 | | iDrive 4, F series CIC | M1000-M-DA3 | | Notes |
| BMW | 3 Series | Saloon (E90) | 2005 | 2011 | i-Drive 4, Professional (CIC) | M1000-M-DA3 | | Notes |
| BMW | 3 Series | Touring (E91) | 2005 | 2012 | i-Drive 4, Professional (CIC) | M1000-M-DA3 | | Notes |
| BMW | 3 Series | Touring (E91) | 2005 | 2012 | i-Drive Professional CCC | M1000-M-DA3 | | Notes |
| BMW | 3 Series | Saloon (E90) | 2005 | 2011 | i-Drive Professional CCC | M1000-M-DA3 | | Notes |
| BMW | 3 Series | Touring (E91) | 2005 | 2012 | i-Drive, Business (M-ASK) | M1000-M-DA3 | | Notes |
| BMW | 3 Series | Saloon (E90) | 2005 | 2011 | i-Drive, Business (M-ASK) | M1000-M-DA3 | | Notes |
| BMW | 3 Series | Saloon (E90) | 2005 | 2011 | NON i-Drive, Professional | M1000-M-DA3 | | Notes |
| BMW | 3 Series | Touring (E91) | 2005 | 2012 | NON i-Drive, Professional | M1000-M-DA3 | | Notes |
| BMW | 3 Series | Coupe (E92) | 2006 | 2013 | i-Drive 4, Professional (CIC) | M1000-M-DA3 | | Notes |
| BMW | 3 Series | Coupe (E92) | 2006 | 2013 | i-Drive Professional CCC | M1000-M-DA3 | | Notes |
| BMW | 3 Series | Coupe (E92) | 2006 | 2013 | i-Drive, Business (M-ASK) | M1000-M-DA3 | | Notes |
| BMW | 3 Series | Coupe (E92) | 2006 | 2013 | NON i-Drive, Professional | M1000-M-DA3 | | Notes |
| BMW | 3 Series | Convertible (E93) | 2007 | 2013 | i-Drive 4, Professional (CIC) | M1000-M-DA3 | | Notes |
| BMW | 3 Series | Convertible (E93) | 2007 | 2013 | i-Drive Professional CCC | M1000-M-DA3 | | Notes |
| BMW | 3 Series | Convertible (E93) | 2007 | 2013 | i-Drive, Business (M-ASK) | M1000-M-DA3 | | Notes |
| BMW | 3 Series | Convertible (E93) | 2007 | 2013 | NON i-Drive, Professional | M1000-M-DA3 | | Notes |
| BMW | 3 Series | Saloon (F30) | 2012 | | i-Drive 4, Professional (CIC) | M1000-M-DA3 | | Notes |
| BMW | 3 Series | Saloon (F30) | 2012 | | i-Drive NBT | M1000-M-DA3 | | Notes |
| BMW | 3 Series | Saloon (F30) | 2012 | | iDrive 4, F series CIC | M1000-M-DA3 | | Notes |
| BMW | 3 Series | Touring (F31) | 2013 | | i-Drive 4, Professional (CIC) | M1000-M-DA3 | | Notes |
| BMW | 3 Series | Touring (F31) | 2013 | | i-Drive NBT | M1000-M-DA3 | | Notes |
| BMW | 3 Series | Touring (F31) | 2013 | | iDrive 4, F series CIC | M1000-M-DA3 | | Notes |
| BMW | 3 Series | Grand Tourer (F34) | 2014 | | i-Drive 4, Professional (CIC) | M1000-M-DA3 | | Notes |
| BMW | 3 Series | Grand Tourer (F34) | 2014 | | i-Drive NBT | M1000-M-DA3 | | Notes |
| BMW | 3 Series | Grand Tourer (F34) | 2014 | | iDrive 4, F series CIC | M1000-M-DA3 | | Notes |
| BMW | 4 Series | Gran Coupe (F36) | 2014 | | i-Drive 4, Professional (CIC) | M1000-M-DA3 | | Notes |
| BMW | 4 Series | Coupe (F32) | 2014 | | i-Drive 4, Professional (CIC) | M1000-M-DA3 | | Notes |
| BMW | 4 Series | Convertible (F33) | 2014 | | i-Drive 4, Professional (CIC) | M1000-M-DA3 | | Notes |
| BMW | 4 Series | Coupe (F32) | 2014 | | i-Drive NBT | M1000-M-DA3 | | Notes |
| BMW | 4 Series | Gran Coupe (F36) | 2014 | | i-Drive NBT | M1000-M-DA3 | | Notes |
| BMW | 4 Series | Convertible (F33) | 2014 | | i-Drive NBT | M1000-M-DA3 | | Notes |
| BMW | 4 Series | Coupe (F32) | 2014 | | iDrive 4, F series CIC | M1000-M-DA3 | | Notes |
| BMW | 4 Series | Convertible (F33) | 2014 | | iDrive 4, F series CIC | M1000-M-DA3 | | Notes |
| BMW | 4 Series | Gran Coupe (F36) | 2014 | | iDrive 4, F series CIC | M1000-M-DA3 | | Notes |
| BMW | 5 Series | Touring (E61) | 2004 | 2010 | i-Drive 4, Professional (CIC) | M1000-M-DA3 | | Notes |
| BMW | 5 Series | Touring (E61) | 2004 | 2010 | i-Drive Professional CCC | M1000-M-DA3 | | Notes |
| BMW | 5 Series | Touring (E61) | 2004 | 2010 | i-Drive, Business (M-ASK) | M1000-M-DA3 | | Notes |
| BMW | 5 Series | Sedan (E60) | 2004 | 2004 | idrive M-ASK business non-mp3 | M1000-M-DA3 | | Notes |
| BMW | 5 Series | Saloon (E60) | 2005 | 2010 | i-Drive 4, Professional (CIC) | M1000-M-DA3 | | Notes |
| BMW | 5 Series | Saloon (E60) | 2005 | 2010 | i-Drive Professional CCC | M1000-M-DA3 | | Notes |
| BMW | 5 Series | Saloon (E60) | 2005 | 2010 | i-Drive, Business (M-ASK) | M1000-M-DA3 | | Notes |
| BMW | 5 Series | Touring (F11) | 2010 | | i-Drive 4, Professional (CIC) | M1000-M-DA3 | | Notes |
| BMW | 5 Series | Gran Turismo (F07) | 2010 | | i-Drive 4, Professional (CIC) | M1000-M-DA3 | | Notes |
| BMW | 5 Series | Saloon (F10) | 2010 | | i-Drive 4, Professional (CIC) | M1000-M-DA3 | | Notes |
| BMW | 5 Series | Touring (F11) | 2010 | | i-Drive NBT | M1000-M-DA3 | | Notes |
| BMW | 5 Series | Saloon (F10) | 2010 | | i-Drive NBT | M1000-M-DA3 | | Notes |
| BMW | 5 Series | Gran Turismo (F07) | 2010 | | i-Drive NBT | M1000-M-DA3 | | Notes |
| BMW | 5 Series | Saloon (F10) | 2010 | | iDrive 4, F series CIC | M1000-M-DA3 | | Notes |
| BMW | 5 Series | Touring (F11) | 2010 | | iDrive 4, F series CIC | M1000-M-DA3 | | Notes |
| BMW | 5 Series | Gran Turismo (F07) | 2010 | | iDrive 4, F series CIC | M1000-M-DA3 | | Notes |
| BMW | 6 Series | Coupe/Convertible (E63 / E64) | 2004 | 2010 | i-Drive 4, Professional (CIC) | M1000-M-DA3 | | Notes |
| BMW | 6 Series | Coupe/Convertible (E63 / E64) | 2004 | 2010 | i-Drive Professional CCC | M1000-M-DA3 | | Notes |
| BMW | 6 Series | Coupe/Convertible (E63 / E64) | 2004 | 2010 | i-Drive, Business (M-ASK) | M1000-M-DA3 | | Notes |
| BMW | 6 Series | Coupe (F12) | 2010 | | i-Drive 4, Professional (CIC) | M1000-M-DA3 | | Notes |
| BMW | 6 Series | Coupe (F12) | 2010 | | i-Drive NBT | M1000-M-DA3 | | Notes |
| BMW | 6 Series | Coupe (F12) | 2010 | | iDrive 4, F series CIC | M1000-M-DA3 | | Notes |
| BMW | 6 Series | Convertible (F13) | 2011 | | i-Drive 4, Professional (CIC) | M1000-M-DA3 | | Notes |
| BMW | 6 Series | Convertible (F13) | 2011 | | i-Drive NBT | M1000-M-DA3 | | Notes |
| BMW | 6 Series | Convertible (F13) | 2011 | | iDrive 4, F series CIC | M1000-M-DA3 | | Notes |
| BMW | 7 Series | F01 | 2009 | | i-Drive 4, Professional (CIC) | M1000-M-DA3 | | Notes |
| BMW | 7 Series | F01 | 2009 | | i-Drive NBT | M1000-M-DA3 | | Notes |
| BMW | 7 Series | F01 | 2009 | | iDrive 4, F series CIC | M1000-M-DA3 | | Notes |
| BMW | X1 | E84 | 2009 | | i-Drive 4, Professional (CIC) | M1000-M-DA3 | | Notes |
| BMW | X1 | E84 | 2009 | | NON i-Drive, Professional | M1000-M-DA3 | | Notes |
| BMW | X1 | E84 | 2009 | | X1 idrive | M1000-M-DA3 | | Notes |
| BMW | X1 | E84 | 2009 | | X1 non-idrive | M1000-M-DA3 | | Notes |
| BMW | X3 | F25 | 2010 | | i-Drive 4, Professional (CIC) | M1000-M-DA3 | | Notes |
| BMW | X3 | F25 | 2010 | | i-Drive NBT | M1000-M-DA3 | | Notes |
| BMW | X3 | F25 | 2010 | | iDrive 4, F series CIC | M1000-M-DA3 | | Notes |
| BMW | X4 | F26 | 2014 | | i-Drive 4, Professional (CIC) | M1000-M-DA3 | | Notes |
| BMW | X4 | F26 | 2014 | | i-Drive NBT | M1000-M-DA3 | | Notes |
| BMW | X4 | F26 | 2014 | | iDrive 4, F series CIC | M1000-M-DA3 | | Notes |
| BMW | X5 | E70 | 2006 | 2013 | i-Drive 4, Professional (CIC) | M1000-M-DA3 | | Notes |
| BMW | X5 | E70 | 2006 | 2013 | i-Drive Professional CCC | M1000-M-DA3 | | Notes |
| BMW | X5 | E70 | 2006 | 2013 | i-Drive, Business (M-ASK) | M1000-M-DA3 | | Notes |
| BMW | X5 | E70 | 2006 | 2013 | NON i-Drive, Professional | M1000-M-DA3 | | Notes |
| BMW | X5 | F15 | 2014 | | i-Drive 4, Professional (CIC) | M1000-M-DA3 | | Notes |
| BMW | X5 | F15 | 2014 | | i-Drive NBT | M1000-M-DA3 | | Notes |
| BMW | X5 | F15 | 2014 | | iDrive 4, F series CIC | M1000-M-DA3 | | Notes |
| BMW | X6 | E71 | 2008 | 2014 | i-Drive 4, Professional (CIC) | M1000-M-DA3 | | Notes |
| BMW | X6 | E71 | 2008 | 2014 | i-Drive Professional CCC | M1000-M-DA3 | | Notes |
| BMW | X6 | F16 | 2015 | | i-Drive 4, Professional (CIC) | M1000-M-DA3 | | Notes |
| BMW | X6 | F16 | 2015 | | i-Drive NBT | M1000-M-DA3 | | Notes |
| BMW | X6 | F16 | 2015 | | iDrive 4, F series CIC | M1000-M-DA3 | | Notes |
| BMW | Z4 | E89 | 2009 | | i-Drive 4, Professional (CIC) | M1000-M-DA3 | | Notes |
| BMW | Z4 | E89 | 2009 | | NON i-Drive, Professional | M1000-M-DA3 | | Notes |
| Lamborghini | Aventador | Aventador | 2011 | | Aventador MMI | M1000-M-DA3 | | Notes |
| Lamborghini | Huracán | Huracán | 2014 | | Huracán MMI | M1000-M-DA3 | | Notes |
| Landrover | Discovery 3 | Discovery 3 | 2005 | 2009 | 6CD | M1000-M-DA3 | | Notes |
| Landrover | LR3 | Discovery 3 | 2005 | 2009 | 6CD | M1000-M-DA3 | | Notes |
| Landrover | LR3 | LR3 | 2005 | 2009 | 6CD | M1000-M-DA3 | | Notes |
| Landrover | Range Rover Sport | RR Sport | 2005 | 2009 | 6CD | M1000-M-DA3 | | Notes |
| Mercedes-Benz | A Class | Mini MPV (W169) | 2005 | 2012 | Audio 20 | M1000-M-DA3 | | Notes |
| Mercedes-Benz | A Class | Mini MPV (W169) | 2005 | 2012 | Audio 50 | M1000-M-DA3 | | Notes |
| Mercedes-Benz | A Class | Mini MPV (W169) | 2005 | 2012 | COMAND | M1000-M-DA3 | | Notes |
| Mercedes-Benz | A Class | Mini MPV (W169) | 2005 | 2012 | NTG2.5 | M1000-M-DA3 | | Notes |
| Mercedes-Benz | A Class | Small Car (W176) | 2012 | | NTG4.5 | M1000-M-DA3 | | Notes |
| Mercedes-Benz | B Class | MPV (W245) | 2005 | 2011 | Audio 20 | M1000-M-DA3 | | Notes |
| Mercedes-Benz | B Class | MPV (W245) | 2005 | 2011 | Audio 50 | M1000-M-DA3 | | Notes |
| Mercedes-Benz | B Class | MPV (W245) | 2005 | 2011 | COMAND | M1000-M-DA3 | | Notes |
| Mercedes-Benz | B Class | MPV (W245) | 2005 | 2011 | NTG2.5 | M1000-M-DA3 | | Notes |
| Mercedes-Benz | B Class | MPV (W246) | 2011 | | NTG4.5 | M1000-M-DA3 | | Notes |
| Mercedes-Benz | C Class | Saloon/Wagon (W203) | 2005 | 2006 | Audio 20 | M1000-M-DA3 | | Notes |
| Mercedes-Benz | C Class | Saloon/Wagon (W203) | 2005 | 2006 | Audio 50 | M1000-M-DA3 | | Notes |
| Mercedes-Benz | C Class | Saloon/Wagon (W203) | 2005 | 2006 | COMAND | M1000-M-DA3 | | Notes |
| Mercedes-Benz | C Class | Saloon/Coupe (W204) | 2007 | | NTG4.0 | M1000-M-DA3 | | Notes |
| Mercedes-Benz | C Class | Saloon/Coupe (W204) | 2007 | | NTG4.5 | M1000-M-DA3 | | Notes |
| Mercedes-Benz | C Coupe | Saloon/Wagon (W203) | 2005 | 2006 | Audio 20 | M1000-M-DA3 | | Notes |
| Mercedes-Benz | C Coupe | Coupe (CL203) | 2005 | 2008 | Audio 20 | M1000-M-DA3 | | Notes |
| Mercedes-Benz | C Coupe | Saloon/Wagon (W203) | 2005 | 2006 | Audio 50 | M1000-M-DA3 | | Notes |
| Mercedes-Benz | C Coupe | Coupe (CL203) | 2005 | 2008 | Audio 50 | M1000-M-DA3 | | Notes |
| Mercedes-Benz | C Coupe | Coupe (CL203) | 2005 | 2008 | COMAND | M1000-M-DA3 | | Notes |
| Mercedes-Benz | C Coupe | Saloon/Wagon (W203) | 2005 | 2006 | COMAND | M1000-M-DA3 | | Notes |
| Mercedes-Benz | C Coupe | Coupe (CL203) | 2005 | 2008 | NTG2.5 | M1000-M-DA3 | | Notes |
| Mercedes-Benz | CL Class | W215 | 2003 | 2006 | Audio 20 | M1000-M-DA3 | | Notes |
| Mercedes-Benz | CL Class | W215 | 2003 | 2006 | COMAND | M1000-M-DA3 | | Notes |
| Mercedes-Benz | CLA Class | Sports Coupe (C117) | 2013 | | NTG4.5 | M1000-M-DA3 | | Notes |
| Mercedes-Benz | CLK Class | Coupe/Convertible (W209) | 2005 | 2009 | Audio 20 | M1000-M-DA3 | | Notes |
| Mercedes-Benz | CLK Class | Coupe/Convertible (W209) | 2005 | 2009 | Audio 50 | M1000-M-DA3 | | Notes |
| Mercedes-Benz | CLK Class | Coupe/Convertible (W209) | 2005 | 2009 | COMAND | M1000-M-DA3 | | Notes |
| Mercedes-Benz | CLS Class | Saloon Coupe (W219) | 2004 | 2010 | Audio 20 | M1000-M-DA3 | | Notes |
| Mercedes-Benz | CLS Class | Saloon Coupe (W219) | 2004 | 2010 | NTG2.5 | M1000-M-DA3 | | Notes |
| Mercedes-Benz | CLS Class | Saloon Coupe (W218) | 2010 | | NTG4.0 | M1000-M-DA3 | | Notes |
| Mercedes-Benz | CLS Class | Saloon Coupe (W218) | 2010 | | NTG4.5 | M1000-M-DA3 | | Notes |
| Mercedes-Benz | E Class | Saloon/Touring (W211) | 2003 | 2009 | Audio 20 | M1000-M-DA3 | | Notes |
| Mercedes-Benz | E Class | Saloon/Touring (W211) | 2003 | 2009 | NTG2.5 | M1000-M-DA3 | | Notes |
| Mercedes-Benz | E Class | E Class (W212) | 2010 | | NTG4.0 | M1000-M-DA3 | | Notes |
| Mercedes-Benz | E Class | E Class Coupe | 2010 | | NTG4.0 | M1000-M-DA3 | | Notes |
| Mercedes-Benz | E Class | E Class Coupe | 2010 | | NTG4.5 | M1000-M-DA3 | | Notes |
| Mercedes-Benz | E Class | E Class (W212) | 2010 | | NTG4.5 | M1000-M-DA3 | | Notes |
| Mercedes-Benz | G Class | G-Wagen (W463) | 2007 | | Audio 20 | M1000-M-DA3 | | Notes |
| Mercedes-Benz | G Class | G-Wagen (W463) | 2007 | | Audio 50 | M1000-M-DA3 | | Notes |
| Mercedes-Benz | G Class | G-Wagen (W463) | 2007 | | COMAND | M1000-M-DA3 | | Notes |
| Mercedes-Benz | G Class | G-Wagen (W463) | 2007 | | NTG2.5 | M1000-M-DA3 | | Notes |
| Mercedes-Benz | G Class | G-Wagen (W463) | 2007 | | NTG4.0 | M1000-M-DA3 | | Notes |
| Mercedes-Benz | G Class | G-Wagen (W463) | 2007 | | NTG4.5 | M1000-M-DA3 | | Notes |
| Mercedes-Benz | GL Class | SUV (X164) | 2006 | 2012 | Audio 20 | M1000-M-DA3 | | Notes |
| Mercedes-Benz | GL Class | SUV (X164) | 2006 | 2012 | Audio 50 | M1000-M-DA3 | | Notes |
| Mercedes-Benz | GL Class | SUV (X164) | 2006 | 2012 | COMAND | M1000-M-DA3 | | Notes |
| Mercedes-Benz | GL Class | SUV (X164) | 2006 | 2012 | NTG2.5 | M1000-M-DA3 | | Notes |
| Mercedes-Benz | GL Class | SUV (X166) | 2012 | | NTG4.5 | M1000-M-DA3 | | Notes |
| Mercedes-Benz | GLK Class | GLK Class (X204) | 2008 | | NTG4.0 | M1000-M-DA3 | | Notes |
| Mercedes-Benz | GLK Class | GLK Class (X204) | 2008 | | NTG4.5 | M1000-M-DA3 | | Notes |
| Mercedes-Benz | M / ML Class | Mid Size SUV (M164) | 2005 | 2011 | Audio 20 | M1000-M-DA3 | | Notes |
| Mercedes-Benz | M / ML Class | Mid Size SUV (M164) | 2005 | 2011 | Audio 50 | M1000-M-DA3 | | |